Junior High Cross Country boards the big bus and travels to Midwest Central for their final meet before Regionals this afternoon. Start time is 4:15 PM. Go Ducks!

Orange 🍊 you glad its Bully Prevention Week.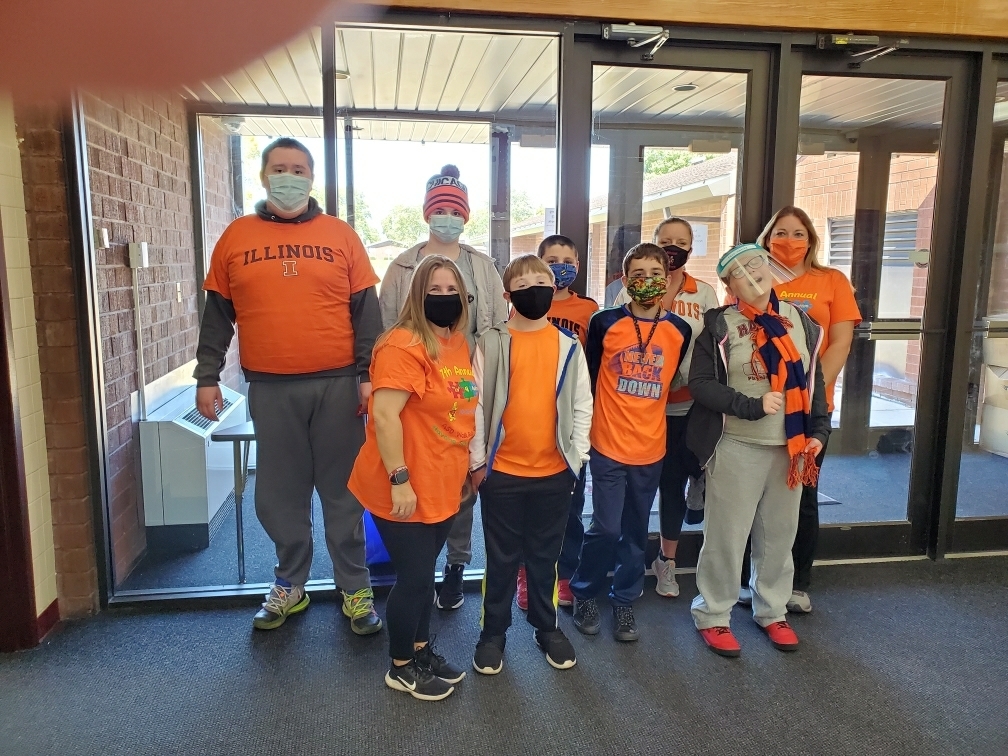 Reminder: Tomorrow, 10/2, is our first SIP Day of the year. The JH dismisses at 12:05. Lunch for 7/8 grades is from 11:14-11:39, 5/6 grades from 11:40-12:05.
High School Boys Golf travels to Country Hills Golf Course to face Illini Central this afternoon for their final regular season match of the season before IHSA Regionals next week. Tee time is at 4:00 PM. Go Ducks!

Girls Golf traveled to Scripps Park Golf Course today. Scores for the Ducks were E Kramer 53, G Johnson 54, M Porter 55, L Johnson 59, and Z Porter 62. Go Ducks!
Results from yesterday's HS Boys/Girls Prairieland Conference Golf Match: Girls team places 3rd overall. Grace Johnson gets 5th with a score of 107, Ella Kramer takes 8th shooting a 111, and Zoe Porter gets 11th with a score of 114. Boys top scorer was Jaxon Porter. Go Ducks!

Friday, October 2, is an early dismissal day for Havana 126 students who attend in-person learning. New Central dismissal time is at 11:55 a.m. New Central students requesting school lunch on the 2nd will be provided a box lunch meal (refer to menu) that will be sent home with the student. There will be no sit-down meal time provided, so sack lunches should not be sent. If your student would like to bring home a box lunch from school, they should request it from their teacher as usual Friday morning.
High School Cross Country heads to Lake Storey in Galesburg for the Prairieland Conference Meet this afternoon. First race starts at 4:00 PM. Good luck Ducks!
High School Girls Golf team travels to Arrowhead Golf Course for a match against Camp Point Central tonight. Tee time is at 4:00 PM. Go Ducks!
Dear Havana High School Parents and Students There have been 6 positive COVID cases reported to us over the past 9 days. These 6 positive student cases have forced 73 students and 2 staff members to be quarantined due to having close contact. This is 1/3 of all in-person learning students. We have decided to move Havana HS to a "Temporary" Remote Learning Situation starting Tomorrow Sept. 29th until Monday, Oct. 12th. This decision is not being made out of fear as the health department agrees there is no evidence that the virus has been spread to anyone while at school to date. During this 2-week period all HS students should stay at home and practice all the safety protocols of using hand sanitizer, wearing masks, social distancing, and refrain from touching their face while outside of their home. If these measures are not followed, then this 2-week period could actually provide more opportunity for the virus to be spread and in effect have the opposite desired outcome. Teachers will still come to work and deliver instruction to students daily. Students will need to use their school provided device to communicate with their teachers, watch instructional videos, continue to complete assignments and participate like they were still in person. If you live in a location that does not afford you a quality internet connection, we ask that you consider finding a better connection or location so you can continue your studies. There are free wifi and hotspots in many communities, restaurants, libraries, and in the school parking lots. The district has ordered some Verizon and AT&T hotspots to assist those that live in remote areas, but we are still waiting on those to be delivered. This is a temporary situation, so we won't be able to assist homes with an internet installation in this situation. We are sorry for the inconvenience this may cause and we appreciate your support during this very challenging and difficult time. We aren't the ones making the rules and none of us asked to be put in these situations. We are simply trying our best to follow the rules for the safety and wellbeing of everyone until things can return to normal. New Central Elementary and Havana Junior High will continue with in person learning. Respectfully, Superintendent Plater and Principal McKinney
Good luck to the High School Boys and Girls golf team as they travel to Soangetaha Country Club in Galesburg for the Prairieland Conference Match today. Tee times start at 10:00 AM. Go Ducks!

Boys Golf participated in the PORTA Invite today. Jaxon Porter finished 8th overall. Go Ducks! Next for the Boys and Girls is the conference meet on Monday.
Ducks win today's IESA Regional Championship 10-0 with a walk-off home run by Karsyn Layton. Congratulations to the Junior High Softball girls on a fantastic season and a great win today! Go Ducks!
Ducks add another run in the 5th inning to take a 9-0 lead over Midwest Central in the IESA Regional Championship game as we head into the 6th inning
Midwest Central strands a runner at 3rd in the top of the 5th inning. Ducks coming to bat leading 8-0
Ducks strand a pair of runners in the bottom of the 4th. Off to the 5th inning with the Ducks still leading Midwest Central 8-0
Hodgson with a big strikeout to end the top of the 4th with runners on 2nd and 3rd for Midwest Central. Off to the bottom of the 4th with the Ducks still leading 8-0
Nothing doing for either team in the 3rd inning. Off to the 4th inning with the Ducks leading Midwest Central 8-0.
Olivia Kramer joins the two-out hit party with a single to drive in two more runs. Ducks lead 8-0!
Addisyn Atwater cashes in with a 2-run two-out single for the Ducks! Ducks take a 6-0 lead over Midwest Central